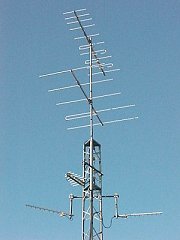 Stallions Satellite and Antenna is a leading business that specializes in helping people in North America improve their over-the-air TV reception. We also assist customers with information on C-Band (large dish) satellite systems, and can provide products and over the phone technical support. We only sell high quality products which are designed to provide excellent picture quality and years of trouble free service.
Since 1991, our local residential installations have included TV antenna systems, C/Ku Band and DBS satellite systems, multi-room home theater systems, video surveillance systems and weather monitoring instruments. Our commercial TV reception and distribution systems have been installed for hotels, apartment complexes, hospitals, schools, bars, retail stores, large airports, TV and radio stations, and office buildings.
From 1996 until 2001, Stallions Satellite and Antenna conducted over 400 FCC "Grade B" signal strength measurements for the Indianapolis network TV affiliates. We also gave a deposition in the CBS/FOX -vs- PrimeTime 24 lawsuit regarding TV signal strength and measurements. With an extensive database of signal strength measurements taken in all types of terrain and distances from the broadcast towers, this information gives us a clear advantage when determining what type of TV antenna system is needed for a particular area of the country.
In addition to product sales and over-the-phone technical support for the entire United States and Canada, we offer design, installation and repair services in Northern Virginia, Maryland, Washington D.C. and Central Indiana. At Stallions Satellite and Antenna we take great pride in our work and go the extra mile to make sure that you get the right products and services for your individual needs.
Stallions Satellite and Antenna's core business focus includes:

Residential TV antenna and C-Band Satellite System Installation and Service

Commercial TV reception and distribution system consulting, design, installation and service.

Internet Product Sales and Customer Support.
For additional information on how we can assist you with a solution for your needs, please contact us. At Stallions Satellite and Antenna, we provide TV Reception Solutions.